Pressure Cookers are the fastest way to cook your meals without losing the flavor of the ingredients.
They will also help you to cook healthy and nutritious recipes, but you probably already know this.
You want the Best Pressure Cooker for your needs.
Having in mind that there are different types of pressure cookers, different prices, and tons of features and functions, this guide will help you find the best one for you and your kitchen needs.
Let's start with a Comparison Table to get a glance at the Best Pressure Cookers…
Top Rated Pressure Cookers in 2023
|   | TOP PICKS | Rating | Size | Price |
| --- | --- | --- | --- | --- |
| | Instant Pot DUO Plus 9-in-1 | 5/5 | 3 – 6 – 8 (quarts) | Check it |
| | Instant Pot DUO 7-in-1 | 4.9/5 | 5 – 6 – 8 Quarts | Check it |
| | Power Pressure Cooker XL | 4.8/5 | 6 – 8 Quarts | Check it |
| | Instant Pot MAX Unlimited | 4.9/5 | 6 Quarts | Check it |
| | Presto 01370 Stainless Steel | 4.6/5 | 8 Quarts | Check it |
| | Presto 01362 (Budget) | 4.5/5 | 4 – 6 Quarts | Check it |
| | All American 21-1/2-Quart (Canner) | 4.7/5 | 10.5 – 15.5 – 21.5 -25 -30- 41.5 Quarts | Check it |
Best Pressure Cooker Reviews in 2023
Before we start to review each model of the Best pressure cookers we give you also some quick navigation links so you can find more topics inside this Review:
1. Instant Pot DUO Plus 60, 6 Qt 9-in-1 – Buy Now – $129.95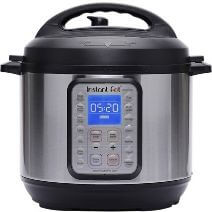 If you need just the best pressure cooker the Instant Pot 9-in-1 is our TOP PICK since is the most featured full and complete model on the market. When it comes to features, price, and quality there is no competition to the DUO Plus that is the updated version of the Bestseller DUO 7 in 1.
This machine includes the most advanced microprocessor technology that includes all of the great features and functions that made the Duo version a total hit on the market, Plus comes with a lot of improved functions and features that support the latest health-conscious lifestyle.
With the new functions that make it able to cook moist and soft cakes, prepare eggs in just minutes and sterilize jars, baby bottles, and utensils, this multifunctional pressure cooker could do everything by just pressing a button.
Just like the other Instant Pot models, this appliance is designed to cook foods up to 2-6 times faster, and it can save up to 70% energy.
Features:
9 appliances in one including pressure cooker, slow cooker, rice cooker, yogurt maker, egg cooker, sauté, steamer, warmer, sterilizer and it makes cake too
A complete array of functions allows you to cook any dish with ease –i.e., meat, chicken, fish, vegetables, potatoes, pork, soup, stew, desserts, grains, and many other products.
Easy to use control panel with 14 built-in Smart Programs.
UL and ULC certified with 10 proven safety mechanisms
All components in contact with food are food grade 304 (18/8) stainless steel including the lid, the inner pot with 3-ply bottom and steam rack with handles.
Click here to see our Full Review>
2. Instant Pot IP-DUO60 7-in-1 – Buy Now– $99.95
The second is close to the first choice but for a cheaper price at the cost of some features. The Instant Pot DUO60 is an amazing companion to any kitchen and as we mentioned before is the Bestseller since 2015 for pressure cookers!. When it comes to selecting a quality pressure cooker this is one that you cannot go wrong.
Made of stainless steel, the Instant Pot DUO 7 in 1 gives you the ability to cook faster and easily all types of meals. You just need to include the ingredients in the pot, cover it, and begin cooking. This machine is also able to cook via high pressure and reduces the traditional cooking time by up to 70% without sacrificing important water-soluble vitamins and minerals in the process.
In terms of safety, the DUO has passed the strict UL and ULC certification that gives you that extra peace of mind that is good to have when cooking with pressure. The removable, non-stick, stainless steel pot, sealing ring, and anti-block shield are all dishwasher safe, as well the steam rack, rice paddle, soup spoon, and measuring cup. And as another cool addition, the 7 in 1 model includes a handy recipe book to have you cooking in no time.
The DUO model was created to be the best kitchen appliance that you can get including amazing features and a sleek design that will not only combine function as a pressure cooker, but at the same time is a rice cooker, slow cooker, steamer, and warmer able to sautéing and browning as well.
Features:
For families, 4-6 people
7-in-1 Multi-Functional Cooker–Pressure Cooker, Slow Cooker, Rice Cooker, Saute/Browning, Yogurt Maker, Steamer & Warmer
Large, easy to use control panel with 14 built-in Smart Programs, Dual pressure, Automatic keep-warm and 3 temperatures for sauteing and slow cook
Delay cooking time up to 24-Hours; Manual setting up to 120 minutes of cook time
UL and ULC certified with 10 proven safety mechanisms.
Include 3-ply bottom stainless steel cooking pot, stainless steel steam rack with handle & manual and recipes in English and French
Click here to see our Full Review>
3. Power Pressure Cooker XL, 6 Quart – Buy Now – $99.99
This is the popular and as Seen on TV PPC Power Pressure Cooker! the perfect appliance for people that would like to cook their favorite meals in an easy way.
Featuring an extra-large size, multiple functions, and just like the Instant Pot models the ability to cook up to 70% faster when compared with traditional cook appliances. This pressure cooker gives you the chance to make healthy and delicious meals without sacrificing your precious time.
With its unique flavor infusion technology that sets it apart from the competition, this machine was designed to maintain all the aroma, taste, and flavors of your meals. So you will not only be amazed by the taste of your meals, but also the aroma that will fill your home with is definitely an added bonus.
The Pressure Cooker XL has capacity enough to hold 4pt jars, making it ideal for canning vegetables, fruits, and other foods. This cooker also comes with the handy automatic Keep Warm mode that will maintain the temperature of your meals for a long time, and its stainless steel coating ensures that the heat never escapes from the food.
Easy to move around and to maintain, with its stainless steel body you need to simply wipe it and is as good as new. Is available at 6 and 8 quarts as well
Features:
Allows you to cook delicious, flavorful and healthier meals up to 70% faster than traditional cookware.
Flavor infusion technology traps superheated steam inside the pot to force liquid and moisture into your food
Digital display panel. Slow cooker function prepares your favorite slow-cooked recipes 10x fast
Safe lock lid with a manual steam release. Automatic keep warm mode. Large and sturdy lid arm handle.
Capacity: 6 quarts
Wipe clean brushed stainless steel housing.
1-year manufacturer's warranty.
Saftey release valve, Pressure indicator, Auto-lock Handles, Locking Lid, Cool Touch Exterior
Click here to see our Full Review>
4. Instant Pot MAX Unlimited – Buy Now – $199.95
The Max could be our number one choice but is not the best when it comes to price, at a $199 is the most expensive Instant Pot model, but there's a good reason for it.
The latest Instant pot cooker is not only the most full-featured from the bunch but is also is unlimited. Meaning that you will have all the features that came along with every Instant Pot model plus you can combine features and functions making whatever you can imagine and more!
Is the first Electric cooker able to achieve the 15 PSI of pressure, giving you the ability to use it as a canner!.
It also features Sous Vide, NutriBoost a cool new self-stirring function that makes use of quick recurring releases of steam to jostle the components of the pot, and Automatic Quick Release.
Features:
For families, 4-6 people
Sustained 15psi, not only cooks food faster, you can now do home pressure canning
5 sensors make Max safer and more dependable – pressure sensor, thermal sensors under the cooking pot and inside the lid, and position sensors for the lid and float valve
A large touch screen makes programming seamless, you can set time, temperature, pressure level, delay start and Warm
Nutriboost technology works by creating a boiling motion during pressure cook to break down food, adding nutrition, flavor, and taste to soups and bone broth
Ul certified with 13 safety features, new automated venting and lid-lock and more.
Accurate temperature control within +/- 1°C or 1. 8 °F allows for sous vide cooking
A new-brushed stainless steel exterior body, stainless steel interior cooker and inner pot made from food grade 304 stainless steel
Click here to see our Full Review>
5. Presto 01370 8-Quart – Buy Now – $119.00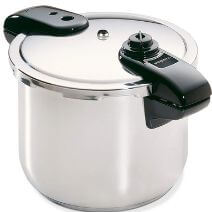 If you need a more cost-effective, that can safe space and at the same time capable of pressure cook, then the Presto 01370 8-Quart could be a great pick for your kitchen.
This appliance is an amazing choice for cooking healthy and delicious meals in an efficient, and quick way. It will help you save time, energy, and cost since it's 3 times faster when it comes to the cooking process.
Featuring a quick pressure and steam release system that gives you the ability to cook vegetables and white meat to perfection in just minutes. This quick-cooking is possible due to its stainless steel construction and a special tri-clad base.
Does the high-pressure steam have you worried? Its quick-release valve safely decompresses the cooker and quickly cools your meal!
By having an 8-Quart capacity this cooker can hold up to 7.6 liters of liquid, and the pressure regulator backed by a cover lock indicator will automatically keep the right pressure throughout the entire cooking process giving you a tender and delicious meal.
The Presto 01370 can cook more than just one food at once by using the steaming basket that will perfectly separate the food without any intermingling of flavors. In addition to this multi-function cookware, you'll also receive a complete guide and a recipe book as well! And at the moment it has a discount so you can get it at just $52.60
Features:
Chicken, fish, meat, and vegetables cook to perfection in minutes. Quickly cooks and tenderizes economical cuts of meat.
Stainless steel construction with a special tri-clad base for fast, uniform heating. Ideal for use on regular and smooth-top ranges.
Pressure regulator maintains proper cooking pressure automatically. Pressure regulator/steam release valve offers an effortless "quick cool" option.
Cover lock indicator shows at a glance when there is pressure inside the cooker and prevents the cover from being opened until pressure is safely reduced.
Stainless steel steaming basket for cooking several foods at once with no intermingling of flavors.
Includes a 64-page instruction/recipe book.
6. Presto 01362 8-Quart – Buy Now – $59.99
Our last but not least choice is the popular and affordable Presto 01362. With more than 3600 reviews on Amazon this cooker it gots a good reputation for its budget-friendly price and functions that help you get a good pressure cooker that will make great meals and save countertop space at the same time
Including a 12-year limited warranty and great safety features that will help you easily cook even if you are just getting into the pressure cooker world. It also comes with a non-sticking pot that helps you to clean it easy, you just need to get the pot into the dishwasher, and you are good to go, you can also washing manually and is also really simple to have it clean
The heating control will keep the temperature inside the pot regulated and the heat constant, so you will have no fluctuations like the ones that you can get with a stove top pressure cookers.
The cover lock indicator will let you know when the pressure reaches its peak. It will also tighten the cover at high internal pressure and loosens it at the moment that the pressure is reduced. The automatic pressure regulation makes the Presto 01362 Stainless Steel Pressure Cooker ideal for smooth-top, regular, and induction range cooking.
The Presto model includes a 64-page manual and recipe book. A special rack is also included in the package, so you can cook several different types of foods separately in one go. For about $60, you'll find no better choice than Presto 01362. It is indeed the best pressure cooker for the price.
Features:
Chicken, fish, meat, and vegetables cook to perfection fast; Helps tenderize economical cuts of meat
Pressure regulator maintains the proper cooking pressure automatically; Complete 64-page instruction/recipe book included
Ideal for use on regular, smooth-top and induction ranges; Dishwasher safe for easy cleaning. Care and Cleaning: Hand Wash Only
Cover lock indicator shows when there is pressure inside the cooker and prevents the cover from being opened until pressure is safely reduced
Helper handle for ease of handling
Extended 12-year limited warranty
7. All American Pressure Canner 921 – Buy Now – $279.95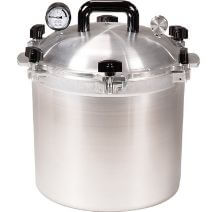 The All American 921 Pressure Cooker was created with the only purpose of being the best canning cooker ever, it is able to fit over 7-quart sized jars or 19-pint jars inside its massive 21 and a half quart spacious container.
This canner is built like a tank. If you are looking for a traditional pressure cooker and have the budget for the best on the planet, this canner is for you!
Made from the highest durability, hand-cast aluminum it is finished externally in a beautiful satin or glossy lamination.
This canning pressure cooker does not use gaskets or rubber to seal pressure inside rather relying on metal-to-metal sealing with high gauge screws.
Other features of the All American 921 pressure cooker include its changeable settings of 5, 10 and 15 psi, geared steam pressure gauge and auto pressure release regulator.
This canning pressure cooker is completely made in the USA adhering with strict industry standards.
Features:
The All American 21-1/2-quart pressure cooker and canner holds approximately 19 standard regular mouth pint jars or 7 standard regular mouth quart jars
Made of durable, hand-cast aluminum with an attractive, easy to clean satin finish
Sturdy phenolic top handle; Exclusive "metal-to-metal" sealing system for a steam-tight seal
No gaskets to crack, burn, replace or clean.
Easy to read geared steam gauge
Automatic overpressure release; Settings of 5 psi, 10 psi, and 15 psi.
15-3/8 inches high with 12-1/4-inch inside diameter. Inside Height – 10 1/2 inches
Click here to see our Full Review>
Benefits of Using a Pressure Cooker
With a pressure cooker, your recipe's cooking time is from the beginning cut in half so you can get your food faster and spend less time cooking and in most cases, the cookers are dishwasher safe so you also save time cleaning!.
The best pressure cooker will not only make your meals faster but it will also preserve more vitamins and nutrients from your foods that normally you will lose using the traditional cooking methods.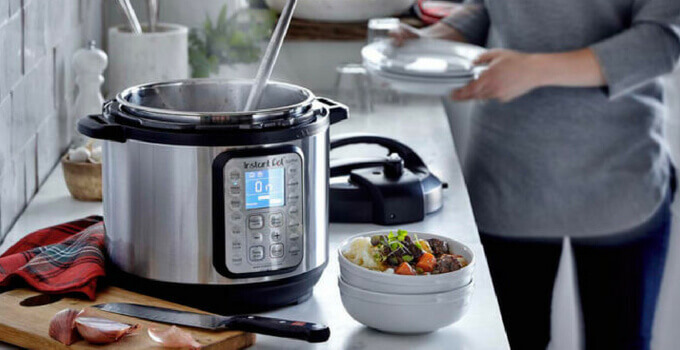 Pressure cookers are way more efficient simply because when you cook under pressure, the boiling point of any given liquid is always higher. After the pot is sealed, the pressure in the cooker starts to increase.
Making the pressure inside the pot get higher taking the boiling point of water from 211 degrees to 250 degrees, creating a lot of steam that heats the food making a quicker and efficient way to cook your meals
Another advantage of the best pressure cookers is that they consume less energy than traditional cookers. Below is a list of extra benefits of having a pressure cooker in your kitchen:
-Save Time: The best pressure cookers can save up to 70% of your time in the kitchen. SO any food that normally will take around 3 to 4 hours of cooking time you will get 2 or 3 hours off making your recipes looking like a way easier task
-Save Money: Besides that most pressure cookers are really affordable and most of them replace more than just one appliance in your kitchen, This best pressure cooker can also save a lot of electricity and energy bills.
-Safety: The newest pressure cookers are really safe to use. They are designed to allow excess pressure (if there is any) to vent out at any time. They also include stay cool handles, and most of the cookers will automatically switch to warm mode once your food is ready, so it will stay warm until you are ready to serve while not retaining excess heat.
-Food Flavors: A pressure cooker helps you retain the nutritional value of food. In terms of the physical appeal of the meal, the food keeps its color and texture, the meats will maintain the flavor, and all other ingredients will be cooked to their ideal consistency.
-Saves Space: Multifunctional pressure cookers can perform more than just cook with pressure they also work as a rice cooker and slow cookers and more! so you can save space instead of having 3 or even 9 appliances you are going to get just one. (Find the best rice cooker and best slow cooker for the money right now!).
Electric Pressure Cooker or Stove Top?
For most of our lives we know pressure cookers, at the regular stovetop cooker, that being honest they didn't have the greatest reputation, with some stories of cooker exploding, or people getting burnt by the steam release.
But from a few years now the pressure cookers got smart, with electric pressure cookers as well new stovetop that come with security functions that will get rid of all your concerns.
One of the biggest differences is that Electric pressure cookers come with pre-set pressure settings, instead of the manual control that you will have with the stovetop models.
Another difference is the pressure level, that on regular electric pressure cooker is no more than 12 psi when the stovetop can reach 15 psi giving you the ability to use them as canners. Although the newest IP-MAX is the first electric pressure cooker able to reach 15 PSI but is not yet a good match against the high pressure and canning abilities that the regular stove top can give you.
When it comes to ease of use the electric cookers can be preset and programmed so you can set and forget, instead of having to babysit the cooker like with the regular stovetop. Although there are people that are already used to cook with the stovetop and have difficulties to learn how to use all the functions and features that come along with the modern electric pressure cookers.
Related: Instant Pot vs Stovetop
So for caning functions, the stovetop is the best pick, but for slow cooking and steaming you will get a much easier use with the electric pressure cookers. They also tend to be safer than the stovetop and can be used anywhere in the kitchen
Electric Pressure Cookers

+Pros
Multifunctional
Digital controls
Can be easier for inexperienced cooks
Normally safer to use
Set and Forget
-Cons
More parts to break
Generally smaller in size
Stove Top Pressure Cookers

+Pros
Can be used as a regular cook pot
Simpler to use for old school chefs
Come in larger sizes
-Cons
Not as safe compared with electric cookers
Not multifunctional
Need babysitting when cooking
No integrated timer
What is the Best Pressure Cooker in 2023?
Although there are many pressure cookers on the market, some are better than others are. Among the above discussed, the best is the Instant Pot IP-DUO60. That comes with seven functions in addition to its great design. It is made from high-quality materials, has a 24-hour delay timer and 14 built-in programs that make it easy to use when cooking meals.
What is the best size for a pressure cooker?
Pressure cookers come in a wide array of dimensions. Picking out the wrong size might make using your pressure cooker frustrating. However, a size that is ideal for the number of people in your family is prone to become a go-to piece of equipment within your kitchen area. Remember that the capacity listed measures just how much liquid it could carry. Only one-half to two-thirds can be utilized when preparing food. The extra space is necessary for the steam. You will find 3 popular sizes:
Four Quarts – Ideal for singles, couples, or creating a single side dish.
Six Quarts – Most popular in families with more than two people. Most recipes are created for this size.
Eight Quarts – Ideal for large families or making stock.
You can also find 16, 18, and 23-quart pressure cookers, but these are typically reserved for canning veggies, meat, along with other low-acid ingredients in quart or pint jars
How to Buy the Best Pressure Cooker for You
How much should you spend?
Pressure cookers vary in price although all of them work on the same principle. The amount that you should spend would depend on whether you're choosing a hob-top model or electric and how much you're planning to use it.
The price of hob-top models normally equals the type of saucepans that you will get. More expensive models will normally come with a pan made from good quality materials like stainless steel instead of aluminum that has shorter durability, and they also will have a thicker base.
When it comes to electrical pressure cookers the price will reflect the number of features and functions that will come together like the ability to work as a steamer, slow cooker or rice cooker.
What features should you look for?
For the hob-top pressure cooker, check for features that'll make your cooking much simpler. Like an easy locking system, a pressure indicator, so you can see when it's reached pressure, a non-stick coating, and a two-valve mechanism for releasing the pressure (either naturally or by using cold water).
Dishwasher-safe parts is a must, as well as suitability for all hob types. Other cool additions could be a timer and included accessories for steaming as well.
Most of these features are the same for electric pressure cookers. You can also check for high wattage, different heat settings or programs, the option of a quick pressure release and an auto temperature control to prevent food burning.
Below we give you some extra point to have in mind:
Handles
When moving the cooker once the food is ready or the cooker is hot, handles are the only way to go. This is even more essential for stovetop cookers that need more babysitting during the cooking process and receive the heat from the stove. Have in mind that pressure cookers, once filled with water, can be very heavy.
Inner Pot Material
Most pots come or non-stick or stainless steel, non-stick sounds like a great idea. After all, it works well for pans. But in reality, the non-stick when it comes to durability is not the best option since after a while they start to peel off.
The Stainless steel pots can be more expensive but in the long run, is going to be the cheapest option.
Pressure Indicator
A pressure indicator can be a real help when it comes to following the recipes perfectly as well, when it comes to safety the indicator will let you know when the pressure is too high, so you can release the pressure
​Quick release valve
Following the prior point once you want to release the pressure a quick release button will give you the ability to release pressure while maintaining the heat.
​Cooking programs
This is point makes more sense when it comes to electric pressure cookers that are multifunctional such as the Instant Pot models. Is true that you can cook most things with the regular pressure cooker but the multifunctional cookers can give you the advantage of the set and forget. By pressing a button you can cook for poultry, meat, beans, chili, porridge, rice and more.
What is the Best Electric Pressure Cooker?
Is not easy to name one pressure cooker to be the best, in the case of electric pressure cookers for us the Instant Pot models are by far the best.
Having in mind that they are a growing company that keeps up to date with the market launching new models every few months and they have the particularity of listening to their customer and improving their models time after time.
You can Check our Instant Pot Model Comparison Here.
But for now, the Instant Pot DUO 7 in 1 is the best pick for us.
Firstly is the biggest bestseller in the history of electric pressure cookers, with great customer reviews and the ability to give you 7 appliances in just 1 (Pressure Cooker, Slow Cooker, Rice Cooker, Saute/Browning, Yogurt Maker, Steamer & Warmer)
Check for Today's price and customer reviews on Amazon >
What is the Best Stovetop Pressure Cooker?
Just like the best electric pressure cooker, the best stovetop is not easy to pick either.
But in terms of regular stovetop, the Presto 01362 6-Quart is the best in today's market (2023).
With a Stainless Steel body that is the best to cook your food and get the best taste. As well it's faster than most stovetop cause it heats quickly and will give you 3 times faster recipes compare to other stovetop cookers, saving time, energy, and at the moment MONEY. Since is now at a huge discount on Amazon.
The Presto is not able to perform caning so in that case, if you are looking to get the best canner there no better than the All American that is not only big and reliable but is also very affordable
-Presto 01362
Check today's Price on Amazon>
-All American 921
Check today's Price on Amazon>