27.000+ reviews (See Today's Price)
– 6 and 8 quarts capacity: Perfect for all types of family sizes!
– Multi-Functions: It can be used for slow cooking, warming, and canning as well.
– Flavor infusion technology: That will trap the superheated steam inside the pot to force liquid and moisture into your food
– Good Price: The 6 quarts Version costs around $100 and includes a 60-day money-back guarantee.
– Slow cooker function: That can make your favorite slow-cooked recipes 10x fast
HIGHS
• Provides fast pressure cooking
• East to operate
• Slow cook and keep-warm options
• Well-constructed
LOWS
• It can be difficult to clean.
• It takes time to pressurize, which must be added to the cooking time.
• Expensive shipping when buying on the pressure cooker website. (our links are Amazon free shipping)
Power Pressure Cooker XL as Seen on TV
The Power Pressure Cooker XL is one of the best selling electric pressure cookers today on the market. You probably saw it already on tv on QVC, or on Costco. Now they also introduce the 8 quart Power Pressure Cooker XL that is a great addition for larger families.
Featuring the amazing and exclusive Flavor Infusion Technology the Pressure Cooker XL is an attractive machine that comes with a stainless steel housing and a one year warranty.
Another great addition to this model is the digital timer that is easy to understand and use, as well the non-stick Teflon inner cooking pot that's is available in both 6 and 8 quarts capacity and is also dishwasher safe. And like if this wasn't enough the cooker also includes a safe-lock lid, a sturdy handle, and a manual steam release.
Another advantage of the electric pressure cooker is that you don't have to monitor it as closely as you did the older versions. The 6-Quart Power Pressure Cooker XL Flavor Infusion Technology has pre-set buttons that allow you to set cooking times for meat, fish, vegetables, beans, rice, soup or stew. Just set it and forget it! Additional settings include warmer, delay timer, canning, and time adjustment.
When you use the Flavor Infusion Technology you get a wide range of advantages, like the ability to cook all your recipes in just one pot, making your cleaning easier and cooking more energy-efficient. The time you spend cooking is also reduced, so you can spend less time in the kitchen and more time on anything else that you wish!.
Another cool feature is that you can use the Timer and set it to whatever time you wish, so in case you want the cooker to start to cook when you are at work and get to your house with a meal waiting for you now you can!. And since the Power Pressure Cooker can cook even tough cuts of meat and make them tender and succulent, you can save money on groceries.
Power Pressure Cooker XL – How to Use
The first question is generally which button should I use. All the pressure cooker buttons cook the same except the canning button. So it doesn't matter which button you use, chose the button with the closest cook time to the time in the recipe.
The Power Pressure Cooker XL pressure buttons:
Fish/Veg/Steam:

 Two minutes cook time, use the cook time selector to adjust to 4 or 10 minutes. This is the shortest cook time available on the Power Pressure Cooker XL

Beans/Lentils: Five

 minute cook time, use the cook time selector to adjust to 15 or 30 minutes.

Rice/Risotto: Six-minute

cook time, use the cook time selector to adjust to 18 or 25 minutes. The manual suggests using 6 minutes for white rice, 18 minutes for brown rice, and 25 minutes for wild rice.

Soup/Stew: Ten

 minutes cook time, use the cook time selector to adjust to 30 or 60 minutes.

Meat/Chicken:

 Fifteen minutes cook time, use the cook time selector to adjust to 40 or 60 minutes.
Additional buttons:
Canning:

 This button can cook at 12 psi, which is high pressure in the Instant Pot. If you prefer, you can do all your pressure cooking using the canning button if you're pressure cooking longer than 10 minutes. You can adjust the time to 45 and 120 minutes.

Slow Cook: Two

 hour

cook time, use the cook time selector to adjust to 6 hours or 12 hours.

Keep Warm/Cancel Button: To

 cancel a function or turn off your pressure cooker. When your pressure cooking time is up, it will automatically switch to Keep Warm.

Delay Timer: A

llows you to set the pressure cooker to start cooking later in the day.
Power Pressure cooker XL Reviews Special Features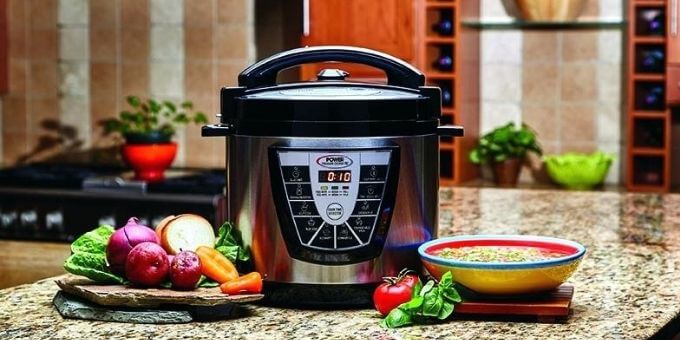 –The Digital Display on your Power Pressure Cooker XL offers a wide range of choices including Low Temp Cooking, Stewing, Steaming and much more.
–Cooking Time and Pressure Levels may be adjusted to suit any recipe or personal preference.
At the completion of the cooking cycle, the unit will automatically shift to the KEEP WARM mode.
–Digital Pressure Cooking utilizes temperatures up to 248O F (120O C) creating a more sterile and healthier environment when compared to traditional cooking methods.
–The Pressure Vent feature allows you to lower pressure quickly and completely. To do so, carefully rotate the Pressure Valve to the Vent position using tongs or another kitchen tool. Never use bare hands.
CAUTION: During this process protect your skin from any contact with escaping steam.
-The STEAM mode heats cooking liquid in the Inner Pot to a boil in a matter of minutes, for steaming and cooking an endless variety of foods.
-The KEEP WARM mode holds and keeps cooked food warm for an extended period of time. Foods kept at KEEP WARM mode for periods beyond 4 hours may lose their good flavor and texture.
Power Pressure XL Recipes
The Pressure XL comes with a handy recipe manual, in case you want to check it click this link. You can also get Videos recipes in Here
But in case you would like to get more recipes and get an even wider array of recipes we give you different videos recipes to check below.
And If you are a Pinterest fan we give you Our Account that is filled with recipes and tips, as well this amazing account that is just about Power Pressure Cooker XL recipes
25 Minute Pot Roast
Spaghetti in the Power Pressure Cooker XL
Conclusion
The popular Power Pressure Cooker XL is a good addition to your kitchen featuring the Flavor Infusion Technology that is great to get the best flavor from your meals. Having in mind the 2 sizes choices is another good point for us, as well the price point that is not going to break your bank account.
Although when compared to other more multifunctional pressure cookers such as the Instant Pot models, The XL is not the best in today's (2020) market.
CHECK REVIEWS AND TODAYS PRICE ON AMAZON >
Related:
Resources:
Cooking Quality

Price

Safety

Operating Temperatures

Features
Summary
If you look for a pressure cooker which is able to make diverse foods at a reasonable price, we introduce you Power Pressure Cooker XL Flavour Infusion Technology 6 Quart.
Actually, we have to say, it is not one of the best as well as the most highly recommended product in the market. However, with a good price, the cooker receives a lot of attention from customers.