Get ready for the best Instant Pot Pulled Pork, we give you a quick and easy recipe but dont get us wrong this recipe is delicious even though is easy to have ready!.
We dont only give you the best recipes but also tips and tricks to get the most tender and juicy Instant Pot Pulled Pork.
How to make Pulled Pork using an Instant Pot?
Instant Pot is one of the best brands when it comes to electric pressure cookers, or multifunctional cookers, You can check our full review Here.
They are easy to use and will help you cook the most delicious recipes in a quick and healthy way. The recipe below is an example of how easy and helpful an Instant pot can be to cook this tasty Instant Pot Pulled Pork!
We give you the recipe at the end and some helpful tips on how to cook and get the best from this recipe at the begging so jump to any section that you want, or just keep reading below :). Happy Cooking!
What is the Best Meat Cut to Use for this Pulled Pork Recipe?
When cooking Pork there's always that big question on your head, Which Cut is best for this recipe? The Pork Meat is always a good choice but depending on the recipe or the taste that you will want to make the Cut is going to be a big deal.
For this recipe, we use Pork Shoulder because it has a little a lot more fat to it. Pork shoulder is additionally a cost-effective cut of meat, making it great for a barbeque or having big parties with lots of people that you need a cost-effective Cut.
Pork But is also a good choice for this recipe, there's some folks that say that Pork But and Pork Shoulder is the same cut, but this is far from the truth. Anyway, for this recipe, it's also a good choice since both cuts come with a lot of fat on the bottom.
However, any cut of Pork is going to work well, for us the Best Cuts are those 2, but you can try a different cut if you want.
It's a Good Idea to Brown The Pork for this recipe?
The final answer for this one is the misleading Depends… Yeah, I know you need an answer!
But depending on a few factors such as Was the Pork Frozen Before? or What Type of Flavor are you Looking for? are going to be keys for the final answer.
So in the case of frozen Pork, you want to avoid the browning, since is going to be a mess, and the taste is not going to achieve the right flavor. The frozen meat tends to be on a stage where is difficult to get a brown color before is too late. So we do not recommend too even try to brown frozen meat. ( you can wait until the meat is fully defrosted).
Now for us, the Browning of the sides makes it extra tasty, giving it a bump on the flavor of the Pork, so in case you feel like doing this extra step you are not going to regret it.
To be sure that your meat is ready use an instant-read thermometer to be sure that the pork gets to least 205 ° F in the thickest part once the cooking is done.
What is the right Pressure Release for this Instant Pot Pulled Pork Recipe?
Every time that you cook under pressure you need to be careful. The Vapor inside the pot can get really hot so you need to know what is the right release for each recipe.
For recipes that take a long time, such as this recipe, the best call is always to perform a natural pressure release, it will always give you the right taste and flavor and will avoid the meat from drying.
For those that are looking for a quicker release technique, you can also perform a natural release, and after 10 minutes you can finish with a quick release and get similar results with this recipe.
How to Cook Pulled Pork when Frozen.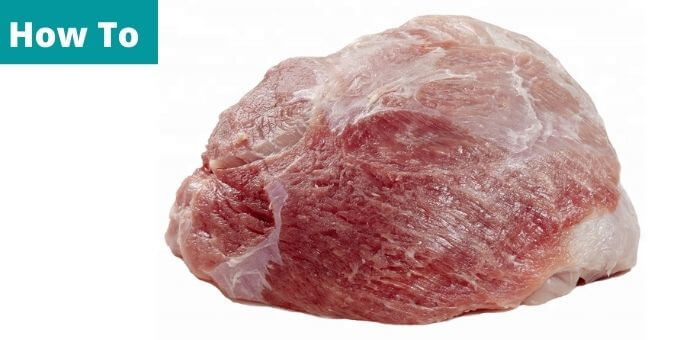 When you take the Pork from the freezer is going to be at least 3 hours before you can start to cook it, and can be even more hours if you really want to wait until is fully de-frozen.
So you need to take action instead of waiting for that long, And you can easily do it.
The only difference with the below recipe is going to be that you will need to ADD 5 minutes for each pound of pork. Have in mind that it will take longer to come to pressure for the Instant Pot
How To Shred the Pork to Get it Pulled
Getting the Pork Pulled can be tricky, you need to be sure that the recipe is well done, there's no space for under cooked meat.
Once the recipe is ready the Sreadhing part has to be a breeze, you need to easily rip every piece to shreds. In case you are having problems shredding the cut then we need to find the cause.
If you got a leaner cut of pork, like loin, for example, you might have to cook it for an extra 10 minutes because the lean cuts normally take a bit more pressure cooking to get fully tender.
Another way to shred the pork it putting it inside the mixer or blender instead of using forks. It's going to be simpler and quicker, but you will not get the Pulled Pork look.
In case you go for the Blender option be sure to take the fat from the meat as much as you can.
Easy Instant Pot Pulled Pork Recipe
Course: Main Course Cuisine: American Prep Time: 5 minutes Pressure Time: 75 minutes Aditional Time: 30 minutes Total Time: 1 Hour 45 minutes Servings: 8 Calories: 547 kcal
Ingredients:
4 Pounds of Boneless Pork Shoulder, or But cut into 2 equal pieces
1 or 2 tablespoons of vegetable oil
2 cups of barbecue sauce, divided, and extra for serving
1/2 cup of water
Toasted Buns, for serving
Instructions:
Start by preheating the Instant Pot. Select the Saute mode for a few minutes until you get the pot warm, once the pot is warm enough add the oil.
Now start to brown the pork on both sides, it will take around 3 mins per side. Brow each part of the Pork roast separately. Then place on a plate.
Add just 1 cup of the barbecue sauce together with the 1/2 cup of water inside the Instant Pot. Mix it all. Once it's all combined add the browned and any extra juices from the pot.
Lock the lid. Select High Pressure and set the timer for 75 mins.
When the cooking time ends, turn off the pressure cooker allow the pressure to release naturally (about 20 minutes).
Once you hear the Valve drop carefully remove the lid.
Take the Pork from the Pot with a lot of caution!. Once it's on a plate or cutting board, shred the pork until it gets that Pulled look, using forks and a spoon to help you. Try to get rid of the extra fat on the pork.
Strain the Cooking Liquid and reserve 1/2 of a mug. (Optional: Use a fat separator to separate the fat from the juices.).
Place the shredded pork in the cooking pot with the remaining 1 mug barbeque sauce and the half of mug from the step before. Stir until they are all combined and bring to a simmer, stirring regularly.
Serve on toasted buns with additional barbecue sauce, if wanted.
NOTES
Try to not use a leaner cut of Pork for this recipe. The pork shoulder will certainly release lots of juices and fat, and also your meat will certainly be extra tender as well as tasty.
If you're cooking this recipe using a regular pressure cooker or an 8 quart or bigger electric pressure cooker, you will need to add extra water.
Related:
Resources: