Time for a good Instant Pot Comparison! So you've decided you want to buy an Instant Pot and then realize that there are a lot of Instant pot models to choose from. But wich one is the best to suit your needs and your kitchen?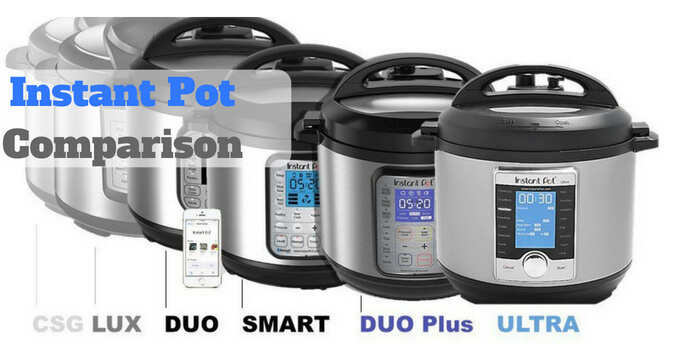 Today there are 7 different models to choose from, across 3 different product lines, sizes and price ranges!
Top 7 Best Instant Pot models in 2019
We give you the Instant pot model comparison table so you can understand the difference between each model and then we group them by Series and highlight the functions and the best and worst features of each model.
Instant Pot Comparison Chart 2018 – 2019
Model
Functions
Features
IP-LUX V3

 

Lux Series

6-in-1

Pressure Cooker

 

Saute

Slow Cooker

Rice Cooker

Steamer

Warmer

Size: 3,6,8 Qts

 

10 Safety features

10 Smart Programs

Power rating:1000W

Voltage: 120v/60Hz

IP-DUO

 

Duo Series

7-in-1

Pressure Cooker

 

Saute

Slow Cooker

Rice Cooker

Steamer

Warmer

Yogurt Maker

Size: 3,6,8 Qts

 

10 Safety features

14 Smart Programs

Power rating:1000W

Voltage: 120v/60Hz

IP Nova Plus

 

Nova Series

7-in-1

Pressure Cooker

 

Saute

Slow Cooker

Rice Cooker

Steamer

Warmer

Yogurt Maker

Sizes: 6 Qts

 

10 Safety features

14 Smart Programs

Power rating:1000W

Voltage: 120v/60Hz

IP-DUO Plus

 

Duo Plus Series

9-in-1

Pressure Cooker

 

Saute

Slow Cooker

Rice Cooker

Steamer

Warmer

Yogurt Maker

Egg/Cake Maker

Sterilizer

Sizes: 3,6,8 Qts

 

10 Safety features

14 Smart Programs

Power rating:1000W

Voltage: 120v/60Hz

IP-Ultra 60

 

Ultra Series

10-in-1

Pressure Cooker

 

Saute

Slow Cooker

Rice Cooker

Steamer

Warmer

Yogurt Maker

Egg/Cake Maker

Sterilizer

Cake Maker

Ultra Function

Sizes: 3,6,8 Qts

 

11 Safety features

16 Smart Programs

Power rating:1000W

Voltage: 120v/60Hz

IP-Smart

 

Smart Series

Unlimited

Pressure Cooker

 

Saute

Slow Cooker

Rice Cooker

Steamer

Warmer

Yogurt Maker

Size: 6 Qts

 

10 Safety features

15 Smart Programs

Power rating:1000W

Voltage: 120v/60Hz

IP-Max

 

Max Series

Unlimited

Pressure Cooker

 

Saute

Slow Cooker

Rice Cooker

Steamer

Warmer

Yogurt Maker

Egg/Cake Maker

Sterilizer

Sous Vide

Cake Maker

Pressure Canner

Size: 6 Qts

 

13 Safety features

∞ Smart Programs

Power rating:1100W

Voltage: 120v/60Hz
Best Instant Pot Model Review 2019 – 2018
1. Instant Pot Lux 6 in 1 –

Most Affordable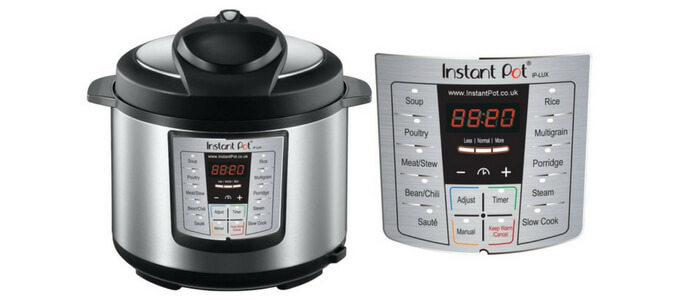 The IP Lux 60 6 in 1 cooker is today's Instant Pot cheapest model, you can find the 3 quarts model for just $59.92 the 6 quarts model for $79.95 (although is just now on a special offer of just $69) and the biggest 8 quarts model is available at $109.
And let's be realistic sometimes ( and more if you are new on the electric pressure cooker world, fewer bells and whistles are way better than complicated programs that will make you end up learning instead of cooking.
This model is the most basic 6-in-1 multi-cooker, although it's able to not just pressure cook, but it can also slow cooks, make rice, sauté and steam your vegetables, and it will "keep warm" your meals up to 10 Hours.
The main feature that is not part of this model is the ability to pressure cook on a low mode, this model can just pressure cook on high mode, but for a regular chef, just using the high mode you will be able to manage most of your recipes.
Even without the low mode pressure this 6 in 1 cooker will be a great addition to any kitchen and will help you save tons of hours when cooking recipes such as stew, chili, or hearty cuts of meat.
Instant Pot Lux V2 vs V3
There are 2 models of the LUX version that are available, this review is focused on the V3 model since the V2 is a more expensive model and the biggest difference is that the V2 is available on the 5 quarts size.
In term of functions and programs is the same as the V3 model but in terms of price the V2 is available for $103.15 when the V3 is $79.95
Pros: Most affordable and multi-function
Cons: Can't cook on low pressure, it doesn't have the yogurt function, and doesn't include lid holders.
Ideal for: Someone that is getting on the Instant pot mania and want an appliance that can perform both slow and pressure cooker, yet only plans to use it a couple of times per week. Although, a great point is that the IP-LUX60 V3 cost today less than 25%  when compared with the comparable IP-DUO60. This model is a good addition for people that don't care about cooking yogurt or rice and can live without the awesome lid holding handles.
2. Instant Pot DUO 7 in 1 –

Best Seller
In case that someone recommended you an Instant Pot, or you have the IP fever from some friend, you probably saw the 7 in 1 DUO model. From day one this cooker is Instant Pot best seller and for a lot of good reasons!
As an improved version of the 6 in 1 model, the DUO is able to cook at low pressure as well comes with the Yogurt Maker function!
It can also cook your meals at around 70-percent faster than usual, and comes with 14 smart programs built in so you can have full control of your recipes
The 7 in 1 can pressure cook, simmer, sauté and create, whether it's creating your homemade yogurt, making rice on a perfect way or even baking an elegant dessert.
It's available in 3, 6 and 8 Quarts and the 6 Quarts model is on a big discount so you can get it now for just $79.95. But hurry up cause is on a special offer.
Pros: Lots of improvements and useful features, like the ability to cook at low pressure and the yogurt function. It also features the lid and handles. Available in the 8-Quart version as well. The ability to cook rice is a great improvement also, you can have a few cups of rice ready in 15 hands-free minutes.
Cons: Costs 25% more than the same models but on the Lux series. If you are not going to be cooking more than 1 or 2 times a week, you may want to save some money and buying a cooker from the IP-LUX series
Ideal for: People that are on the need of a reliable pressure cooker that will be cost and time efficient and with the ability to have a 7 appliances in just one machine saving a lot of space on their kitchen
3. Instant Pot Nova Plus 7 in 1 –

Hybrid DUO / DUO PLUS



The Nova Plus is a model that you are not going to see that much around the web, it was first released just to be in Costco Stores and it is a Hybrid model from the Bestseller Duo and the Duo plus that was the first model to include 9 functions in just one machine.
So if you are wondering what is the actual mixture of these 2 models, the Nova comes with all the same buttons and features of the DUO 7 in1 but with the new and modern display that comes with the DUO PLUS that will show you if the cooker is reaching or containing pressure, another advantage of having this modern display is that you will be able to turn off all the beeping sounds (just like the DUO PLUS).
Here is the catch, if well is true that is marketed as a 9 in 1 model its actually a 7 in 1. We think that Instant Pot comes up with the 9 in 1 functions having in mind that this model uses the IP proprietary fuzzy logic so you are able to combine some functions.
But have in mind that the Nova doesn't Include the "sterilize", "cake" and "egg" settings of the PLUS model.
Pros: Same features as the DUO plus but a better display, 3 Smart Programs settings( Less, Normal and More) to achieve your desired cooking results, 3 Sauté temperatures for searing, simmering or thickening, and 3 temperatures in 'Slow Cook' and 'Keep Warm' functions.
Cons: Is not actually 9 in 1 is just 7 in 1, comes only in the 6 quarts version and it cost $140 when the 7 in 1 is just $79 so you will end up paying close to %40 more for just a new display.
Ideal for: People that want the newest generation of the bestseller 7 in 1
4. Instant Pot DUO Plus 9 in 1 –

Best for Big Families



The Duo Plus series appears to the market as the first intent from instant pot to get the latest generation of Pressure cooker attending all the needs that the market and the reviews were waiting for.
This model comes in 3 different sizes (3 quarts, 6 and 8) and 9 different functions in just 1 machine combining the same features that the beloved Duo series had but adding extra features and perks that will make your pressure cooking a breeze like the settings for making cakes, eggs, and sterilizing.
By using the sterilizing mode you will be able to pasteurize milk and sterilize baby bottles, jars, and utensils.
Another important addition to this model is the upgraded display that is not just bigger better and easier to understand but it will help you cook better by editing the cooking time and the level of pressure while the cooker is still in use ( compared with the 7 in1 1 model that forces you to cancel the cooking program to be able to change the settings), and it will also give you the option to silence its alarms.
Pros: New functions and useful features, Great and easy to use and understand one-button smart programs. Comes with all the same features and cool additions from the Duo series plus the egg program, Cake Program, and Sterilize Program that has the ability to pasteurize milk, as well sterilize baby bottles, utensils, and jars.
Cons: You could feel overwhelmed with all the 9 functions. The meals can get stuck into the inner pot despite contrary claims. And in case you don't secure the lid properly you can get some leak steam.
Ideal for: People that already have an Instant Pot and want to take the experience to the next level.
5. Instant Pot ULTRA 10 in 1 –

Best Multifunctional
The word is Ultra! the newest feature that came to revolutionize the pressure cooker world that comes with the ability to pre-program the cooker with different cooking times and different temperatures as well gives you 2 pressures to choose from.
When using the granular control it will be not just a 10 in 1 appliance but once you start to use it you are going to realized that is more like hundreds of appliances in just one.
Packed with endless choices for customization, the Ultra is full of extra modes and functions for the home chef that likes to try new things out. It comes with 21 pre-set temperatures to choose from.
Available in 3 Qt, 6 Qt, 8Qt the 10 in 1 will even allow you to adjust for altitude, so you don't need to convert your recipes and get a really precise cooking time depending on your needs.
Another great addition is the smooth display that will make your recipes programming a breeze. And last but not least you will be able to pressure cook for up to 6 hours that is 2 hours more than what you will get with the Duo Plus.
Pros: Ultra function that combines 10 appliances in 1 making it a wide range of choices to get the most from your pressure cooker. All the same features that come along with the earlier models plus a large digital display that makes it really easy to use. It also features a cooking process indicator that will show you how much your food has been processed, this will allow you to keep an eye on the cooking progress.
Cons: The dial button interface is not that impressive and the guide manual is very shallow and doesn't provide too much help on how to use the cooker
Ideal for: People that want to get the most high-end model from the bunch and the feel comfortable using electric pressure cookers already.
6. Instant Pot SMART Unlimited –

Best for Smart Houses



The Instant pot Smart Smart WiFi is the first Multi-Use Programmable Pressure Cooker that can now be controlled and monitored with your mobile devices. Comes with a modern and easy to understand display screen and a Stainless Steel body.
It used to be a 7 in1 cooker but now has upgraded to an Unlimited multi-use cooker since you can combine all the features and functions. With 13 smart programs such as –Soup/Broth Cake, Slow Cook, Sauté just to name a few.
The Smart model comes with many of the extras that other Instant Pot models offer along with the addition of WiFi connectivity, which allows you to set, monitor, and control your cooking from virtually anywhere.
It also comes with more than 750 pre-programmed recipes that you can peruse via the Instant Pot app. When your dish is nearly done, you'll receive an alert on your smartphone and can even send your recipes and cooking results to your family.
The Smart series only comes in a 6-quart size and is one of the most expensive models from the company. The Smart feature here is most than anything the ability from the cooker to connect via Bluetooth. You can control your pressure cooker from your phone. You have the same features as the Duo Series.
Pros: You can control the cooker from your phone and cook at any temperature, It can also be used to run saved cooking programs
Cons: The biggest con is the price. For the just the Bluetooth feature expect to pay more than double the cost of the IP-LUX60
Ideal for: Smart houses and tech people that love to manage everything from their phones. If you like the technology of sous vide cookers, cooking at a precise temperature, this model can do that for you. If you like to saves and organize your recipes, you will love this model as you can save your cooking programs.
7. Instant Pot MAX Unlimited –

Best Overall
The Instant Pot Max is the newest Ip model and includes all the features and functions that made the previous models a must have cooker but includes new and improved features as well
Just to name a few of the newest features that come along with the MAx you can now cook at 15 PSI, 13 new safety measures and the ability to cook gourmet meals thanks to the sous vide function
Like all the multifunctional Instant pot this one can Pressure Cook, Slow Cook, Pressure Canner, Sous Vide, Sauté/Searing pan, Rice Cooker, Steamer, Yogurt Maker, and Food Warmer. By using these programs and the newest 3rd generation system you are going to be able to cook just about anything in the Max.
One of the biggest improvements to this model is the design of the Pot with a modern and cool LCD touchscreen that will make really easy to understand and use the cooker.
Another update is the ability of automatically control the pressure release valves so you can choose how you want to release pressure (naturally or with a quick burst) on the touch screen, which is definitely an added bonus in terms of safety.
For more serious chefs the canning and sous vide features can take your recipes to a new and gourmet level, two new features that come only with this model made possible by the heat capacity of the pot.
Last but not least the Max can seriously decrease cooking time. The Max is the first 15 psi electric pressure cooker ever made so at the moment is the faster pressure cooker on the market.
Pros: New and improved LCD touch screen, The NutriBoost technology that allows the intermittent release of pressure from the cooker, Automatic Pressure Release and the 15 PSI pressure that also allows canning at home.
Cons: The Sous Vide feature is not entirely accurate. The cook times are not as precise, but this is more of an annoyance than an actual Disadvantage.