27.000+ reviews (See Today's Price)
– Best Seller – Available in 3, 6 and 8 Quarts
– Great Price – List $100 – Today $79.95
– Save Space- Replace 7 appliances in just 1!
– Multi-purpose- 10 Safety Features, and 14 smart programs.
– Safe – The pot is UL and ULC certified
– Dishwasher safe- Stainless Steel Steaming Rack
HIGHS
Great safety features
Multiple Functionalities
Slow cooker and Yogurt Maker
LOWS
Not intuitive
Might be hard for new users to adapt their own recipes
Instant Pot 

DUO60 6 Qt 

7 in 1 Review
Quick Navigation:
– Instant Pot DUO – Product Overview
– Safety Features
– What's In The Box
– Extra Accessories
– Pros And Cons
– Conclusion
The Instant Pot fever started a few years ago and now is taking the market for a run You probably have a family member or a friend that can not stop talking about how much they love their Instant Pot.
There are even forums and facebook group dedicated only for Instant pot recipes and ways to use it, giving to IP enthusiast a place to show their love and share, countless photos of food, and there at least one person calling at the machine my "precious"
Members of these groups laugh about the old pressure cookers that cause so many troubles and accidents.
But is the $100 7-in-1 model a Precious or just another internet Buzz? We tested it out to give you the best review and clear all the doubts that you can have.
Below there's a video that gives you instructions on how to start to use your Instant Pot and the different functions. It's a quick look at how to Install the condensation collector, Remove and reinstall the anti-block shield and Remove and reinstall the sealing ring.
The next video is a much more comprehensive and detailed overview for Instant Pot owners and beginners alike. 
These Videos are only to know the first steps on the Instant Pot way, but keep scrolling down to get the full review on the actual 7 in 1 model.
Instant Pot 7 in 1 – Product Overview
The Instant Pot IP-DUO60 7-in-1 Programmable Pressure Cooker was from day one a huge success being an Instant Post best seller from the beginning until today!
Whit the advantage to be 7 appliances in 1 the Duo can work as a pressure cooker, slow cooker, rice cooker, sauté/browning, yogurt maker, steamer and warmer (up to 99 hours).
The IP DUO comes with 14 built-in smart programs and 10 safety features so you can get the best each time you use it.
Its priced at $99.95 (Check today's price), being one of the most affordable and amazing partners in your kitchen
With three temperatures for sautéing alone and adjustable dual pressure settings, not to mention the capability to delay cooking for up to 24 hours, the Instant Pot IP-DUO60 really does earn its "Set It and Forget It" reputation.
The IP-DUO60 is also UL and ULC certified with ten proven safety mechanisms and built to North American Electrical Standards.
It's kitchen friendly and, even when cooking, the external environment undergoes no minute temperature change, meaning that it's safe for all the members of the family,
It's also fingerprint resistant in case that you have a curious little hand that likes to touch the "shiny thing" that has just come out.
The 3-ply bottom Stainless Steel cooking pot, steaming rack (with handles) and manual/recipe book, in 4 different languages, ensures that your recipes come out just as you imagined them every time.
But just what makes the Instant Pot different from other kitchen appliances?
Is that third generation technology that comes with this model. Is an embedded microprocessor that is monitoring constantly and adjusts temperature and pressure levels during the whole cooking process.
And with this model the company made HUNDREDS of lab tests, giving you one of the most tested cooking appliances on today's market (2019).
Functionality
The 7 in 1 model comes with a really easy to read and understand display. The presets work programmed or if you want can be adjusted simply by pushing a button. You have 2 modes when it comes to cooking under pressure high and low.
The high mode will reduce the time that you will need to make your meals, and the low one will help you to prevent overcooking delicate ingredients. You will also have 3 different saute and slow cook temperatures that cover a wide range of recipes and uses. On the slow cooker settings, you can modify the cooking time from 30′ up to 20 hours.
Another great feature is the Delay button, that gives you up to 24 hours ahead. On the Keep warm settings, you can choose between automatic and manual. The automatic starts by itself when the cooking time ends and stays on for up to 10 hours. In case you choose the manual mode you can go much longer almost 100 hours of warm food!
Quality
The cooking pot is made of Food Grade 304 (18/8) stainless steel (which is amazing!) with a 3-ply bottom for even heat distribution and retention. The lid fits snugly and locks tight for pressure cooking. The company is from Ottawa, Canada, and the Instant Pot is made in China just like most products on the market.
Preset Programs
To make your cooking experience a breeze the multifunctional Instant Pot 7-In-1 comes packed with 14 different microprocessor controlled programs. You can choose from Soup, Meat/Stew, Bean/Chili, Poultry, Sauté, Steam, Porridge, Rice, Slow Cook, Keep-Warm, Multigrain, Yogurt, Pasteurize and Fermented Rice.
Capacity
The Instant Pot 7-In-1 Multifunction Cooker comes in different sizes you can choose from 3, 6 and 8 quarts. It's a round pot, so in case you like to cook certain shapes of roast or bird you maybe have a problem when it comes to fit the bird into an oval shape. We think that the 6 quarts version is the best in terms of capacity for a regular family up to 6 people.
Clean Up
The pot is stainless steel, comes out with ease and is dishwasher safe.
We love this pressure cooker for a lot of reasons but how easy is to clean it is one of our most favorite features. As we mentioned before the pot that comes along is stainless steel and is really easy to take it out.
The cooking bowl is dishwasher safe and it's really easy to clean, you can also clean it easily with a sponge and detergent. All of the accessories that come with the Instant Pot 7-1  are also dishwasher safe.
The exterior is fingerprint and smudge-proof so it's easy to keep it looking clean. When you do need to wipe it down, just use a cloth and warm, soapy water. Make sure to never submerge the pressure cooker in water and to keep the power cord dry.
The outer lip and the lid require a little more careful cleaning, again using a warm, soapy dishcloth. Make sure to these parts are completely free from food residue and soap you used to clean before your next use.
Safety
Pressure cookers have come a long way since the exploding messes that hurt the technique's reputation in the 1970's.
The Instant Pot 7-In-1 Multifunction Cooker has 10 separate safety mechanisms and is both UL and ULC certified meaning it had to pass rigorous safety tests. It features pressure regulator protection, excess pressure protection, a safety lid lock, an anti-blockage vent, high-temperature warning, and several other features designed to keep this cooking method as safe as possible.
Many people have reservations when buying pressure cookers because of safety concerns. This tool uses pressure to cook food quickly, and that kind of pressure can be dangerous when not used properly.
Several users commented that although the older stovetop pressure cookers and accidents associated with them had made them worry about this type of tool, they found the electronic Instant Pot to be totally safe. Since it is electronic, it can do a lot of the pressure monitoring for you and takes human error almost entirely out of the equation.
Tech Specs
Below are the specs for the 6-quart IP-DUO60
Working pressure: High 10.2 ~ 11.6psi (70 ~ 80kPa); Low 5.8 ~7.2 psi (40 ~ 50kpa)
Steam release pressure limit: 15.22psi (105kPa)
Working temperature: 115°C ~ 118°C (239°F ~ 244°F) at high pressure setting; 110°C ~ 112°C (229 ~ 233°F) at low pressure setting.
"Keep warm" function: up to 99 hours 50 minutes, 63 ~ 78°C (145 ~ 172°F);
"Slow Cook" function: 0.5 ~ 20 hours, at 88 ~ 99°C (190 ~ 210°F)
"Sauté" function: "Normal" mode: 160 ~ 176°C (320 ~ 349°F); "More" mode: 175 ~ 210°C (347 ~ 410°F); "Less" mode: 135 ~ 150°C (275 ~ 302°F).
"Yogurt" function: up to 99 hours 30 minutes. "Normal" mode for making yogurt: 36 ~ 43°C (96.8 ~ 109.4°F); "Less" mode for making Jiu Niang (fermented glutinous rice): 30 ~ 34°C (86 ~ 93.2°F); "More" for pasteurizing milk: ~83°C (~180°F).
Features:
7 appliances in one: pressure cooker, rice cooker, slow cooker, steamer, saute, yogurt maker and warmer
Prepares dishes up to 70% faster
14 smart programs include soup, meat/stew, beans/chili, poultry, saute/simmer, rice, multigrain, porridge, steam, slow-cook, keep warm, yogurt, manual and pressure cook
Programmable timer delays cooking up to 24-hours for convenience.
Sleek LED screen with soft-touch controls makes operation practically effortless.
Automatic keep-warm function lends convenience.
Product Details : 13″H x 12.6″W x 12.1″D – 1000 watt
Product Care
Base: wipe clean
Removable parts: hand wash
Manufacturer's 1-year limited warranty
For warranty information please click here
Product Support
The Instant Pot 7-In-1 Multifunction Cooker comes with a 1-year limited warranty that covers defects in workmanship and material. No real surprises there. Pretty standard. They do want to see a copy of your original receipt so scan and save or store it somewhere you'll be able to find it if needed. Assuming the problem is covered under the warranty, the manufacturer will replace, repair, or help you repair the unit.
What's In The Box
Stainless Steel Inner Pot
3-ply bottom for even heating
Food grade 304 (18/8) stainless steel
Mirror-polished surface for easy cleaning
Dishwasher safe
Sealing Ring
Durable food safe silicone passing FDA standards
Dishwasher safe
Replace every 18-24 months or when deformation is noticed
Stainless Steel Trivet
Stainless steel trivet to elevate food from water for steaming program
Rice Paddle
Rice paddle for scooping out rice or food content
Stands up straight and lays flat
Soup Spoon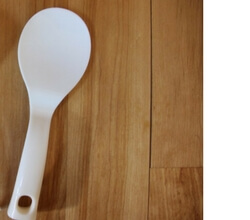 Soup spoon for transferring soup/broth
Handle hooks onto inner pot rim
Measuring Cup
Measuring cup for measuring the quantity of food ingredients such as rice, multi-grains, etc
Recipes and Instruction manual
You can check here for the Full manual
Extra Accessories
While they aren't necessary, Instant pot give you some recommended extra accessories that you can buy to make your Instant pot experience even easier and more streamlined:
Instant Pot IP-DUO60 7-in-1 Cooker –

Pros +
Stainless-Steel Interior – One thing that makes most of the Instant Pot models a great buy is that their interior comes completely made of stainless-steel. Is true that there are also different materials like plastic on the exterior of the pot, but these materials don't have any contact with the food at all.
Multiple Purpose –By just having one appliance you will be able to replace many other machines by just using the space of one. The Duo can be used as a Pressure cooker, slow cooker, rice cooker, sauté/browning, yogurt maker, steamer and warmer!
Slow Cooker – The Instant Pot Duo was the first model that came with the ability to slow cook your meals, and the best thing is that you will have one of the best slow cooking experiences, since Instant Pot slow cooking feature is one of the fastest and it will give you the best results for your recipes.
Save Time – Cook up to 70% faster with the DUO model. You will be amazed at how much time you are going to save. For example, in recipes that required slow cooking, you will normally have to wait for 6 to 8 hours, by using the IP DUO you can prepare the same recipes in just one hour! .You can even cook a dinner roast in just under 40 minutes.
Cost Effective – For the Price of one appliance you will get 7, of course, that compared with just a regular rice cooker the price is higher but having in mind all the functionalities that come along there's no doubt that you will get the most of your buck.
Programmable – Another cool addition that you would get with the Instant Pot products that makes them so much better than the competition is the ability to program your meals. You can put the ingredients in the cooker and then schedule a time for it to cook.
Easy to Clean – The stainless-steel interior makes it easy and simple to clean away food particles and debris. You can clean it in the dishwasher or by hand.
Instant Pot IP-DUO60 7-in-1 Cooker –

Cons –
Learning Curve – If you are a first time user you can get overwhelmed with so many features and functions. On the other hand, after a few hours of learning, you will be able to understand the basics for your regular meals, and in case you want to make more gourmet recipes you will need to put a few more hours on the learning process.
Good thing is that there's a lot of easy recipes and Videos on how to cook on your Instant Pot so, after all, you are going to figure it out. But as a rule of thumbs, you should read the instruction manual prior using the IP DUO. It is a short read that will give you all the necessary information to get you on the going.
Other Considerations
The manual that comes with the Instant Pot is really easy to understand, so for those that are new to the Instant pot experience you are going to be cover with all the features and ways of use. The manual also comes with a cooking time chart and recipe ideas.
Conclusion
The Instant Pot 7-In-1 Multifunction Cooker is one of the best models from the Instant Por family and without a doubt one of the best Electric pressure cookers on today's market. having in mind that cost less than $100 is a must in any kitchen.
Of course, if you already have high quality specialized pots for each of the functions The IP 7-In-1 is not going to be the best when compared to specialized machines for each task. Although you will have 7 appliances instead of one.
So when space is an issue on your kitchen that's when the Instant pot wins over and over, and let's be honest if you got 7 different appliances you clearly spend way more than $100. On top of that, it's pretty easy to use.
Check prices and read more customer reviews on Amazon now.
Related Post:
Incoming search terms:
instant pot 7 in 1
instant pot 7 in 1 pressure cooker
instant pot duo 7 in 1 programmable pressure cooker
instant pot duo60
instant pot ip duo60
References:
Instant Pot 7-In-1
Cooking Quality

Price

Safety

Operating Temperatures

Features
Summary
If you already have high-quality specialized pots for each of the functions The Instant Pot 7-In-1 Multifunction Cooker does, I'm sure you'd find they outperformed it in their specialized way – but you'd have 7 different units cluttering your kitchen. If space is an issue, this is a solid solution. On top of that, it's pretty easy to use. As a plus, along with the manual and quick reference guide, there's a pressure cooking booklet that includes cooking timetables as well!